Get Started With Personal Training: The Pure Form Way in Stockton
At Pure Form Personal Fitness Training, our expert staff, management, and owners are committed to your success. Through years of experience, we've learned that there is not one right way to get fit, but there is only one Pure Form approach to fitness. Our group training is unlike a normal gym class. Sessions are taught by certified personal trainers who are experts in the PFT System. Each session will push and motivate you to be Your Very Best. Try our group training and discover what it feels like to belong to the #PFTfamily. The PFT family is a non-intimidating and supportive community of people who motivate and help one another succeed.
Just fill out the short form below to get started with our group fitness program!
Why Choose Group Fitness at Pure Form PFT?
When you work out at a regular gym, you'll get a standardized training curriculum that may or may not work. At Pure Form PFT, we give each one of our members personalized evaluations with the mission of better serving our community with group training sessions that are optimized for you. Our sessions are 40-45 minutes long and are broken down into a 5-minute warm-up, a 30-minute total body training segment, and a 4-minute finisher. You work at your own intensity with the PFT System, so anyone can get a great workout, regardless of training history. We recommend training 5 days per week at any and all of our daily sessions. PFT does not have a WOD board on the wall to record your workout performance. We care more about the quality of the work you do than who performed the fastest.
All our training is Timed Interval training and High Intensity Metabolic Resistance Interval Training. We utilize your own bodyweight, paired up with TRX, Sandbags, Dumbbells, Resistance Bands and MedBalls to help you achieve total body fitness! Through our group fitness program, we hope to help ordinary men and women from across Stockton achieve greater health and wellness. No fitness plan works for everyone; that's why our team at Pure Form PFT wants to discover what's right for you.
Group Fitness can help you:
Discover a tight-knit community that will support and challenge you
Access customized exercises and nutrition plans to get you real results
Receive feedback on your progress as you work towards your goals
Get real results in a low-stress, high-accountability environment
Pure Form PFT is designed for everyone -- by tapping into what makes you unique, we'll engineer a fitness program that's perfect for your body and your goals. Join us in Stockton and see how our group fitness can transform your body and your mind!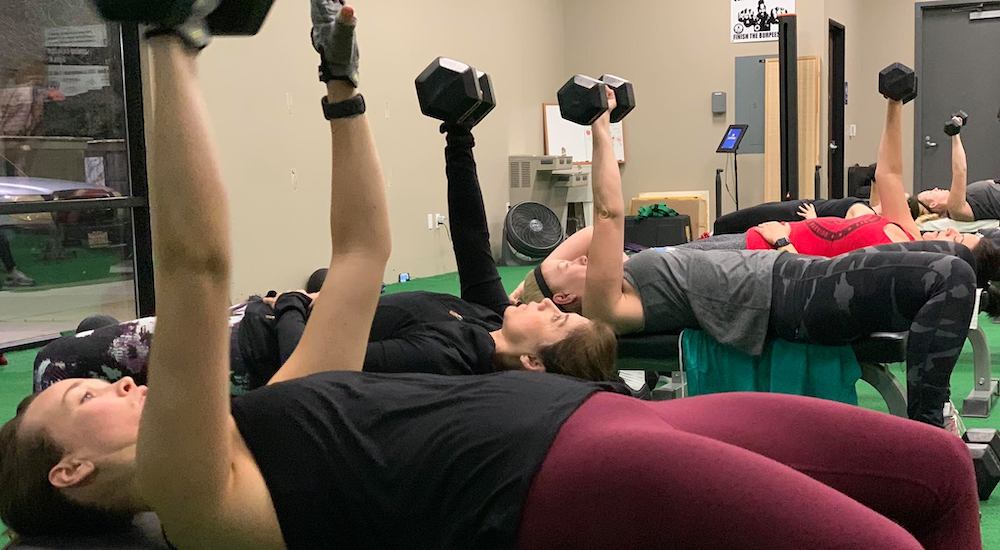 Sign Up For Group Fitness Today!
Whether you're just starting out on your fitness journey or hoping to get back into shape, our group training offers the best fitness family in Stockton. With a compassionate and dedicated team, Pure Form PFT will help you commit to making change and following through, one step at a time.
Just fill out the short form below to get started on your weight loss journey!